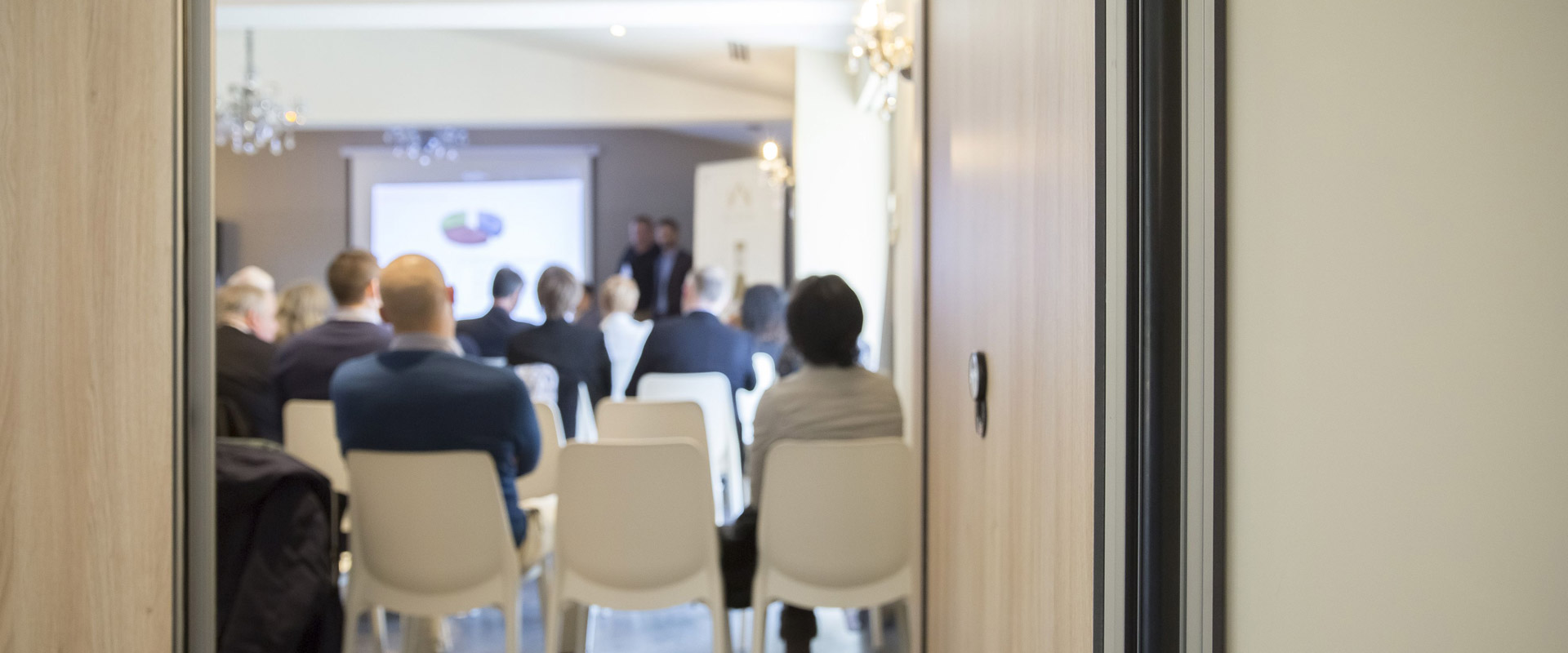 ORGANISE YOUR SEMINARY IN BRITTANY, IN FRANCE
We offer the possibility for our clients to organize seminaries in Brittany, at the Hôtel de l'Abbaye, in France. We offer a place where everything you need is present for a successful seminary, congress, meetings. Contact us here at the Hôtel de l'Abbaye for further informations.
An ideal location for all your professional events in France
Ideally located in the heart of Brittany, near Saint-Malo,the Mont Saint-Michel, Dinan and Dinard, the Hôtel de l'Abbaye is easy to reach, 30 minutes only from Rennes.
In a superb setting
Located near a golf and a lac, the Hôtel de l'Abbaye is a beautiful place to organize a seminary in brittany. Relaxing, peaceful, you are surrounded by a splendid park of 2 hectares that will let you work in a calm and serene atmosphere.
Our meeting room reveals the mysterious and spellbinding past of mystical Brittany. First, the ceiling with its big oak cut beams from the forests around, land of king Arthur and its legends. Then, its inner granit walls intact from centuries. And this old, majestic stone fireplace, only heat source during the winters of the pat centuries. This room, equiped with modern technology let you work in optimal working conditions, with a great natural light.
All the necessary for your seminaries
The hotel let at your disposal a top range conference room, and owns all the necessary material needed for the good progress of your seminaries. The hotel, plus its quality and professional amenities, has a superb and luxurious setting, ideal to work in the best conditions. You can also enjoy relaxing moments near the swimming pool or in the park.
Our services :
• A conference room, luminous and apart from the rest of the hotel
• All the necessary amenities for your reunions
• Sportive and cultural activities
• A permanent assistance during your reunions
• A restaurant and catering service
 ORGANISATION
Reception capacity
• up to 60 persons
Dimension of the room
• 63m2
Equipement
• Parper-board
• vidéo projector
Services on request
• Catering
• Cocktails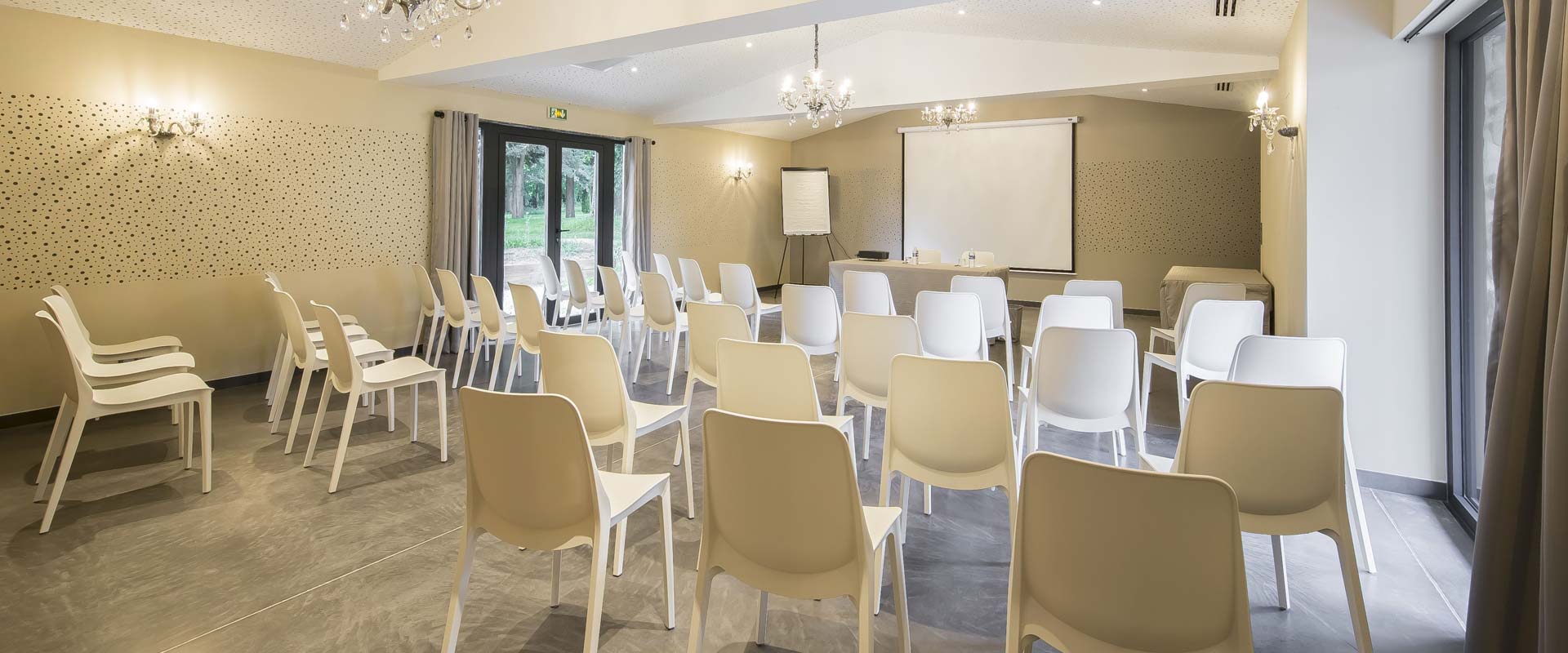 Galvanize and congratulate your teams
Federate your teams, motivate them, fixing new objectives, announcing company results, congratulating your collaborators ; the setting and the equipement put at your disposal wil be unfailing for the succes of your business meetings and gatherings.
LA SALLE DES LAUDES
Different configurations are possible for the disposition of your conference room, for the betterment of your working conditions. Contact us for further informations on prices and welcoming possibility at the Hôtel de l'Abbaye.
More informations
CLASS ROOM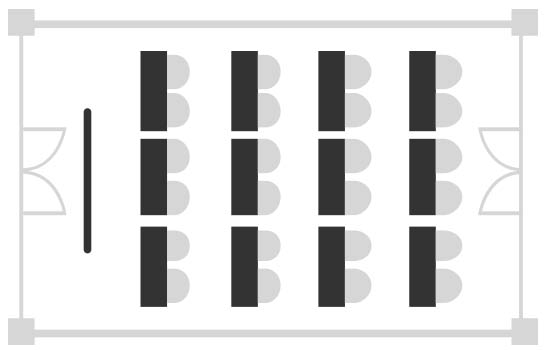 30 PERSONS
The disposition in classroom is interesting for the welcoming of 30 people. It offers a good possibilty of communication between the speaker and the public.
CONFERENCE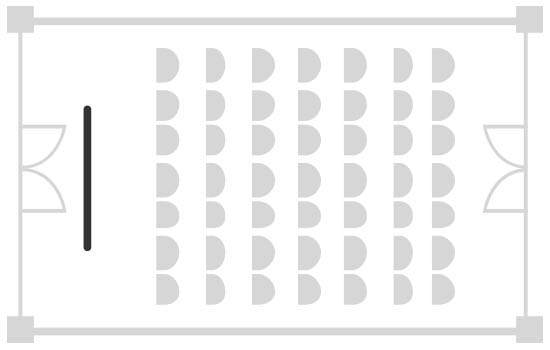 50 PERSONS
This disposition in conference room allows you to welcome a real public, up to 50 people. This configuration lets the public and the participants have a rich dialogue.
MEETING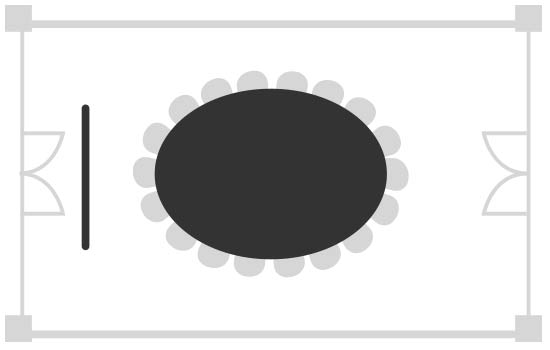 22 PERSONS
This disposition in roundtable is perfect for intense and dynamic work sessions, where all the participants can react in an equal way.
COCKTAIL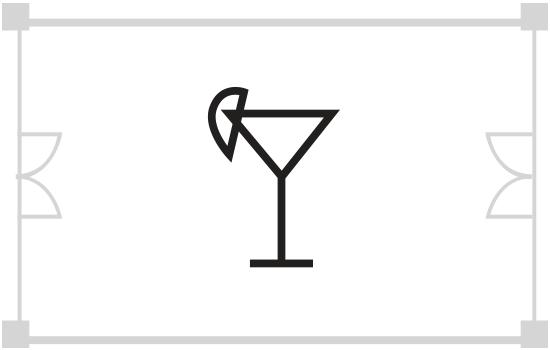 60 PERSONS
The cocktail events, with littles round tables is perfect to organize leaving drink of any other professional parties, such as launching a new product.
contact us for more information and quote